Casino Heroes Review
Casino Heroes is a unique online casino. Not so much with the games that it offers, those are very much standard fare, but more down to the fact that the casino tries to be as unique as it possibly can in terms of its rewards. More on that soon, though.
Our First Impressions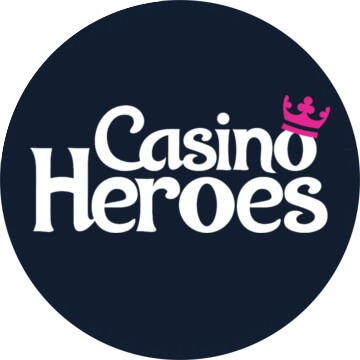 We must admit that we absolutely love the whole look of the Casino Heroes website. It looks absolutely stunning...well, for an online casino. There are not that many ads on the front page of Casino Heroes. In fact, the only ads show you a small selection of the games they have available, plus a little bit of their bonuses.
We are not massive fans of the fact that not many games are listed on the front page of Casino Heroes. We do love the fact that the site has tried to simplify the main page as much as possible. Not a lot of online casinos do that, so kudos to Casino Heroes here!
The site functions well on mobile devices too, but that is something that is to be expected in this day and age. An online casino which does not function well on mobile devices is probably not going to be doing that much business at all.
The Welcome Bonus & Offers
If you are intending to play at a new casino site, then the welcome bonus is pretty importnt, as it is here you can usually get some amazing offers and value when you deposit for the first time.
At Casino Heroes, the welcome offer is pretty decent, with a deposit bonus and some extra free spins thrown in for good measure. You will find the current bonus and any bonus codes (if needed) below.
Also we were delighted to see that this casino also runs regular promotions, which can be seen on the main website plus you will also get regular offers for extra bonus spins and reload bonuses sent to you during the week. All in all on the bonus front, Casino Heroes delivers quite well!
Casino Heroes Game Selection
Casino Heroes is very much about the slot offerings available. They work with a plethora of different game vendors including Microgaming, NetEnt and Play N' Go. If you can think of a big slot that has been released over the past few years, then Casino Heroes likely has it. The best part is that we think that Casino Heroes has the capability of getting big enough to have its own unique slot offerings. It has not happened quite yet, but with the way things seem to be going with the online casino, it is a distinct possibility in the future.
Of course, an online casino can't thrive on just slots alone. Plenty of companies have tried before. While slots are profitable for online casinos, people eventually get bored of them.
This means that you need to have a different set of games that people can dive into. That is exactly what you get when it comes to Casino Heroes. Dozens and dozens of live dealer games, blackjack, roulette, and a whole lot more. If you are looking for something nice and exciting to play, then Casino Heroes has it. They are constantly expanding their range too, which means that you will always have something new to get stuck into.
How they do things differently
Casino Heroes likes to do its loyalty bonuses a little bit differently. It tries to turn it into a game (as if you are not playing enough games already when you are gambling, right?). Anyway, the site has various adventures that you can follow. You progress when you play games, with various rewards along the way.
Honestly, it is not that much different to most other online casinos, but it is nice to see. It is a unique way of playing at an online casino, even if the rewards are the same. You also feel like you are progressing towards certain goals as opposed to hoping and praying that the online casino is going to toss an awesome bonus your way on occasion.
We do love the way in which Casino Heroes runs its loyalty bonuses, and it is one of the main reasons why we are continuing to play at the online casino. This is why we are predicting that Casino Heroes is going to get huge. We know that many people are going to pick up on these bonuses too and enjoy that.
Other Site Functionality
The customer support system built into Casino Heroes is awesome. They seem to answer any question that you may have nice and quickly. It is also lovely to have quick and easy deposits and withdrawals. We can't really think of any complaint in this regard.
Our Verdict? Play at Casino Heroes Below!
Casino Heroes reminds us of other well know adventure casino Casumo. That's only a good thing; both use gamification to enhance the casino experience. Casino Heroes however, to us, has a ore quirky design and an easier to use site. Plus - the bonuses are fab!
Of course, if you want to qualify for some of the epic online casino rewards that the site offers, then you need to sign up today. The quicker you sign up, the quicker you can gain loyalty with Casino Heroes. If you want the best deals for signing up to this site, then hit the link below!